I started raging in Seoul in August 2013, when I moved there to teach English. I went clubbing in Gangnam almost every weekend, and I can't even begin to tell you how much fun it was!
Although I've since adopted a different lifestyle (still crazy, but in a different way), I decided to write this guide to nightlife in Gangnam to share my favorite clubs and tell you what to expect.
The nightlife in Seoul is the best in the world.
Seriously guys, I've partied in pretty much every country and more cities than I can count, and nothing comes close to the insanity levels of Seoul. I've lived in Las Vegas and I've been to the clubs of Barcelona, Stockholm, Berlin, and Bangkok. They've got nothing on Seoul.
You have to see it to believe it.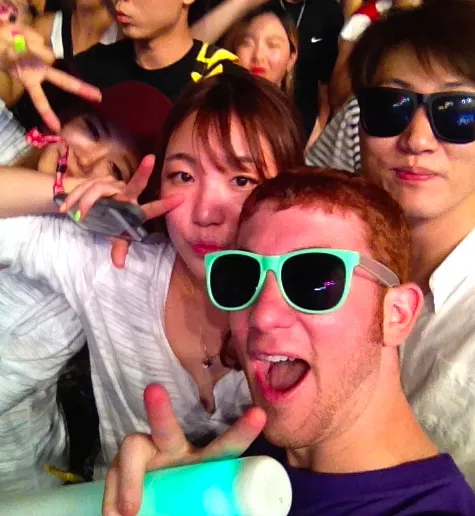 Perhaps the #1 reason why the nightlife in Seoul is so fun is because Koreans love to get drunk.
Every year, South Korea tops the charts for the highest consumption of alcohol per person in the world. In fact, Koreans drink more than twice the amount as Russians, with an average of 13.7 shots of liquor per person per week (2014).
Get your hands on a green bottle of soju for $1.50 USD (1,500 won). Similar to sake in Japan, soju is a Korean rice liquor that is heavily consumed during social gatherings, at restaurants, and in every convenient store in Korea. It only contains 20% alcohol content, but brace yourself for a miserable hangover…
The next thing to learn about Koreans is their love for electronic dance music or EDM. Seoul frequently attracts many big name DJs and EDM music festivals. I've seen Tiesto, Avicii, Above & Beyond, Fedde Le Grand, Steve Angello, Kaskade, Madeon and dozens more perform at clubs, and I've attended festivals such as Ultra Korea, Sensation White, Global Gathering, and World DJ Festival.
I get a kick out of the way Koreans dance to EDM. Their style involves moving their shoulders up-and-down, bobbing their heads, and uncontrollably pumping their fists. Want to know what it looks like? Check out my YouTube video of How Koreans Dance!
If clubbing is not your thing, don't worry. Check out these other popular nightlife districts of Seoul:
Itaewon is the foreigner district, but it's also trending for young to middle-aged Koreans. Here, you will find several bars (some fancy, some casual), as well as various night clubs and pubs. The healthy mix of foreigners and locals gives Itaewon a unique feel that's always full of energy.
For the best hotel rates in Itaewon, click here!
Hongdae is the ultimate hipster area. Go here to see young Korean trends and fashion at its finest. Hongdae is like a college campus, because there are several big universities around the area. Everything in Hongdae is cheap, and there are more bars and clubs than I can count. It's always crowded, and the street vendors and local restaurants stay open 24 hours.
For the best hotel deals in Hongdae, click here!
Sincheon is nearly an extension of Hongdae. It's just one metro stop away, and this area also has a college feel to it. There is a main strip lined up with bars and clubs that are cheap and fun. It's always a good idea to start the night in Sincheon, and then head over to Hongdae (or vice versa).
Click here to book a hotel nearby.
Apgujeong is another trendy nightlife hub that's located next to Gangnam. Rodeo drive is where all the craziness happens, with some of the priciest clubs and deluxe hotels in Seoul. If you're not on a strict budget, then go to Apgujeong for dinner and drinks before heading out to Gangnam (but prepare your wallet).
For hotels in Apgujeong, click here!
Gangnam is the main district for luxurious, posh, multi-leveled nightclubs with massive dance floors and top-notch sound systems. Basically, this is where all of the celebrities and rich folks hang out and spend ridiculous amounts of money, but it's also trending for young 20-somethings who want to party all night. Gangnam is the Beverly Hills of Seoul. It's a must-see!
For the best hotel rates in Gangnam, click here!
Clubbing in Gangnam isn't cheap.
Cover charges are typically $20-$40 USD and drinks are expensive. Expect to pay no less than $10 USD for any shot, beer, or mixed drink.
If you want to save money on drinks, then go to the club early and get a wristband so you can enter and exit when you wish. Then, go to a cheap convenient store down the street and drink soju for $1 per bottle!
If you are going out clubbing with a large group of people, then it's definitely worth getting a table with bottle service. You will pay a little more money, but the epic experience is worth it. It's also a good idea to get sufficiently drunk BEFORE you go, otherwise you will light all your money on fire inside the club.
Unlike clubbing in Las Vegas or Western Europe, the dress code in Seoul is not strictly enforced. You can dress up as much as you want if that's your thing, but you don't have to. I typically wear a V-neck with black jeans and Nike gym shoes. Just don't wear shorts or flip flops because you will get denied entrance.
Clubs are becoming more strict on checking IDs, so make sure to bring your ID with you. You don't need a passport, just any ID with your birthday on it.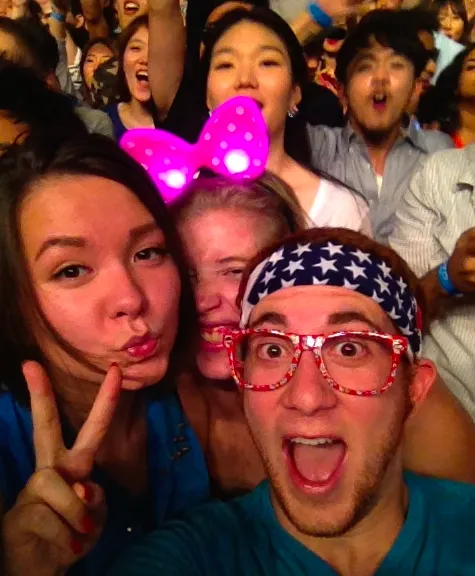 Don't show up to a club until at least midnight, or else you will awkwardly be the only one inside. Clubs stay open until the last person walks out, usually 7-9 AM. I have stumbled home from a club at 10AM before.
Here are my top 7 favorite clubs in Gangnam, and be sure to book your hotels on this link. Oppa Gangnam Style!
#1. Octagon
Octagon is hands down my favorite club in Seoul.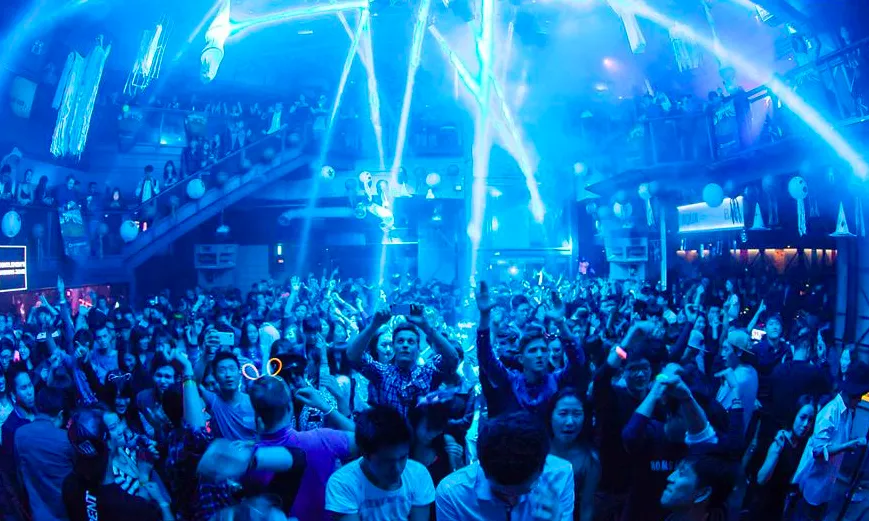 This club was ranked the 6th best club in the world by DJ Mag. The first floor spreads out from the stage to the VIP tables and the bar in the back. The upper level is only accessible for VIP tables, and there is an exciting balcony that looks over the entire club. The DJ stage is gigantic and it has one of the best LED TV monitors I've ever seen, with the lights and the sound both coordinating together.
There are frequently big-name international DJs that play here on weekends. I have seen Laidback Luke, Deniz Koyu, Fedde Le Grand, and Dash Berlin perform at this club, as well as several famous Korean DJs. All of the music is EDM. No matter which night you go, you will definitely hear all your favorite electronic tunes mixed together. It is impossible not to dance and not have fun!
Address: 152 Newhilltop Hotel, B1-2, Nonhyun-dong, Gangnam-gu
Or show this to the taxi driver: 서울 강남구 논현동 152-3번지
#2. Answer
Club Answer is the upcoming place for the young, sexy, and crazy Seoulites to rage until the sun rises.
This club has dominated the electro-house scene in Seoul. Club Answer is a three-story club with a giant stage on the first floor, VIP tables on the second floor, a sweet overlooking balcony, and private rooms on the third floor.
The interior is luxurious, with its leather white seating, chandeliers, and marbled floor that will make you feel like you are the richest person in Korea. The powerful sound system inside Answer is one of the best in Seoul. My Korean friends refer to this club as "the place to get down."
Huge names such as Deadmau5, Benny Benassi, and Paul Van Dyke have played here. Club Answer is known to attract the most beautiful, well-dressed Koreans out there. So, make sure that you dress appropriately or you will instantly be denied entrance into the door.
Address: 125-16 Cheongdam-dongm Gangnam-gu
#3. Syndrome
Syndrome is the talk of the city every weekend.
They party by their motto: "representing a new culture of Electronica in Seoul."
Syndrome's goal is to change the way that people look and think about dance music. And whatever they're doing, it's working.
All I can say is that this place is absolutely insane. It is, without question, one of the biggest and most epic clubs in Seoul. There is even a swimming pool inside! The main DJ stage is all the way in the front, with a long dance floor that stretches the length of the club. The only issue with this club is the location of the main bar, which is in the back of the club. So, if you are on the dance floor, it will take a few minutes to push your way to the back bar for a drink.
There is a sweet upstairs level with VIP tables and a giant balcony overlooking the club. There must be 2,000 people that can fit inside this place, and it stays packed until sunrise. It's definitely a great place to party all night and experience Seoul's culture at its finest.
Address: Inside the Sunshine Hotel: 587-1 Sinsa-dong, Seoul, Korea 135-892
#4. Ellui
Ellui is absolutely massive. It's not only the biggest club in Seoul, but it claims to be the largest nightclub in Asia. Just take a look at this photo!
Nearly every weekend features an international or top-notch Korean act that gets the party going all night long.
The club features multiple levels with dance floors that become crazier as the night progresses into early morning. At some point during the night, the staff will stand on top of the bar and pour shots of vodka into everyone's mouth.
The high-energy crowd is mostly mid-20s to 30s and the vibe is cool-but-casual. The dance floor has huge bouncing balls and the light show/blasting speaker combination is mesmerizing.
Ellui is so big that you can probably expect to get lost at some point into a sea of Koreans, which is usually a good thing! I left the club at 6AM and it was still packed with people.
You will never want to leave Ellui from the second you walk in the door.
Address: 129 Cheongdam-dong Gangnam-gu
#5. Base
Located in the Ritz-Carlton Hotel, Club Base is the most luxurious and high-class club in Seoul.
As you can imagine what a club is like in the Ritz, this place is extremely posh and has some of the most attractive people who dress to impress. The interior resembles an 18th century ballroom, with crazy fancy decoration on the walls and ceilings. Now, try to picture that with big-ass speakers that blast house music, and it feels like you are raving in a time machine to the future. The sound system is on par with the best and there are neon flashing lights coming from every possible direction. It is just too cool.
The only problem with Base is that the music has little variation. It's the same pulsing beat for 5 hours, and you won't recognize any songs. But, the amazing scene makes me itch to get back there on Friday nights.
Address: 602 Yeoksam-dong, Gangnam-gu
#6. Mass
Club Mass is the go-to spot for late, late night partying. It stays open 365 days a year, and goes until 9 or 10 AM in the morning.
Mass describes itself as the "premier electronic house music club in Seoul." The interior is huge, with a central stage and a massive dance floor that is packed with hundreds of people. The music is electro-house and it stays bumping until the last person walks out the door in the early morning.
I recommend going to Mass after you are done hopping around other clubs and bars in the area. This place doesn't hit peak hours until 3-6 AM, so don't worry about getting there too late.
Seriously, I walked out the door at 9:30 AM one Sunday morning.
The crowd is young and beautiful. You'll see the girls wearing extra high heels, short dresses and make-up, and the guys wearing button downs, slacks and nice shoes. It's a good place to find a date.
If you are the type that can rage until breakfast, then Mass is your place!
Address: Soecho-gu seocho-dong 1306-8 Daedong BD, Seoul, Korea
#7. The A Hall
The A Hall, without question, attracts the biggest EDM DJs in Korea. Much like club Mass, this club really goes until 7 AM.
I've seen Kaskade, Ali & Fila, Laidback Luke, Bingo Players, Fatboy Slim, and Ferry Corsten play shows at The A Hall. This club is also popular amongst Korean celebrities.
I put it last on this list simply because I hate the tiny layout of the club, and I always feel like I am getting pushed by sweaty, uncontrollable drunks. But that being said, I always go here to see some of my favorite DJs perform.
HAVE FUN RAGING IN THE #1 PARTY CITY IN THE WORLD!
And thanks for reading! Don't hesitate to contact me if you have any questions about the nightlife in Seoul or travel in Korea in general!
Give Back
I spent many hours writing this blog post, and one way that you can give back is to book your hotel in Seoul on this link. It's an affiliate link, meaning that I make a small commission on each sale made at no additional cost to you. The money that I make will go directly into making better content. Thank you!