Introduction
The travel bug first bit me during my Junior year of college while studying abroad in Prague, Czech Republic. During my semester of living in Europe, I traveled to 20+ countries, and that was the time when I knew I wanted to make a career out of traveling!
So after graduating from college, I moved to a small village in South Korea to teach English. At that time, I knew nothing about teaching, but I saw it as a great opportunity to live and work abroad – and it definitely was! While living in Korea, I continued to travel and started documenting my adventures through blogging and social media.
By the time I left Korea (February 2015), I had amassed enough blog readers and followers on social media to attract some sponsorships from local tourism boards and hotels.  So I traveled full time, going to India, Eastern Europe and beyond!  While the sponsors helped reduce my expenses, I still had to come up with all sorts of tips and tricks for saving money while traveling. Here are some of my all-time favorite tips to help you travel for as cheaply as possible.
Saving Money On Lodging
Lodging is one of the biggest expenses when it comes to traveling. Depending on what country or city you're in, it's not uncommon to see major hotels going for $300 – $400 per night. That's obviously not in the budget when you're on a quest to see the entire world. Thankfully, I've come up with a few different ways to sleep for cheap – even in expensive cities.
Airbnb
Airbnb has become a very well known alternative to hotels and offers guests the ability to rent out a private room or entire house/apartment. Oftentimes, Airbnb will be cheaper than renting a hotel room and provides a more authentic experience because you're usually staying in a neighborhood instead of a busy commercial district. What I love about Airbnb is that each rental is "hosted" by someone who owns or manages the property and they can usually give you additional advice on what to see and do while you're visiting.
Another nice thing about having a "host" is that you can contact them before even reserving their rental and try to negotiate a better price. I've had very good luck saving up to 50% off the initial asking price by messaging them ahead of time and asking if they'd work out a deal with me. What I typically do is identify 5-10 places that I'd like to stay at and then message them all saying that I'm interested in their place but it's a little out of my budget. By sending out a handful of messages I've almost always gotten a response from someone that's willing to take less than the listed price and I still get to stay somewhere that I want.
Hostels
Hostels are one of the most affordable ways to find lodging while traveling and they have the added bonus of being a very social experience. Hostels are similar to a college dorm room in that they usually have a few bunk beds for sleeping, along with a shared lounge area and sometimes even a kitchen for preparing meals. Since hostels are a shared sleeping space, they are very low cost. I've paid as little as $4 for a single night in a hostel while traveling in Asia!
CouchSurfing
CouchSurfing is the absolute cheapest form of lodging when you're traveling – you're literally sleeping on someone's couch, for free. There are other sites out there but, couchsurfing.com is easily the biggest and best way to find a host when looking to couchsurf. I've done it everywhere from Slovenia to Japan and it's a really cool experience that I think everyone should try at some point!
Credit Card Point Earning!
This is a very broad tip but it's the absolute best way to reduce your travel costs and get completely free travel. I opened my first credit card when I was in college in order to start building my credit. At that time, the card I had offered 1% cash back on all of my purchases. This was certainly better than nothing but it's pretty minimal in comparison to the travel rewards that I'm earning today. It's super important to manage your credit card spending well and ensure you pay the balance in full each month but when you follow a few simple rules, credit cards can be extremely rewarding.
I'm currently using three different credit cards for nearly all of my purchases. The main reason I'm using three different cards is to make sure that I'm maximizing my spending with the different category bonuses that they each offer.
The cards I have and use most right now are the Chase Ink Business Cash® Credit Card card, Chase Ink Business Preferred® Credit Card, and The Platinum Card® from American Express. I use the Chase Ink Business Cash card for most of my day-to-day business expenses as it has bonus categories that align well with my spending. The Chase Ink Preferred card is used for most of my travel expenses because of the bonus earning it gives me. Another reason I love this card is because of the complimentary travel insurance – which is more important now than ever. My American Express Platinum card is mostly used for purchasing flights, but I'd also recommend it for the travel perks – hotel and rental car elite status, airport lounge access, yearly flight and Uber credits, just to name a few. Terms and Restrictions Apply. "Enrollment Required" per Amex guidelines for benefits where enrollment is required.
Airport Lounge Access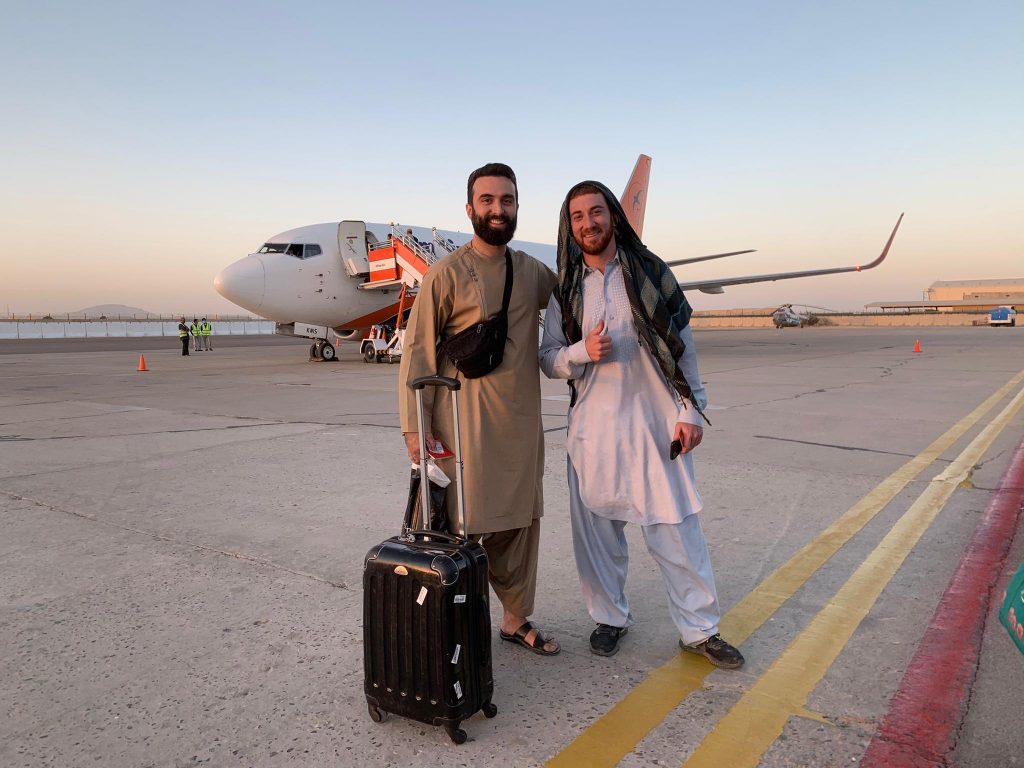 Getting access to an airport lounge is my number one tip for taking the stress out of travel but it's also a great way to save money. Pretty much anything you buy in an airport is going to be overpriced and that especially goes for food. That's where airport lounges come in. Airport lounges offer travelers a nice place to relax before a flight and come with complimentary food and drinks (including alcohol), private bathrooms, shower suites, sleeping pods, exercise equipment – the list goes on and on. One airport lounge in Punta Cana, Dominican Republic, even has its own swimming pool!
Priority Pass
Priority Pass operates a network of 1,300+ airport lounges, restaurants, and experiences. The bulk of the Priority Pass lounge program consists of airport lounges that are contracted through the Priority Pass program and allow members to access the lounge before a flight. Over the past few years, Priority Pass has expanded their offering to include non-lounge locations like restaurants, or 'experiences' like Minute Suites and even free massages.
In order to access these lounges, you can purchase an annual membership directly through Priority Pass or get access as a benefit with several top travel credit cards. In almost all situations, you'll be better off getting access with a travel rewards credit card – it is more cost effective and usually comes with fewer restrictions. I get my Priority Pass membership through the American Express Platinum card, but another great option is the Capital One Venture X Rewards Credit Card.
I'm such a big fan of using Priority Pass when traveling that I'll often schedule a longer-than-necessary layover just to use a good Priority Pass lounge. I find them to be a great place to get work done, relax, and get a free meal while traveling.
American Express Centurion Lounges
As I mentioned, I get my Priority Pass Select lounge membership as a perk of my American Express Platinum Card, but the lounge access doesn't stop there. With the Platinum card, I'm also able to access American Express' own network of Centurion Lounges. This lounge network is much smaller than what Priority Pass offers but the quality is usually a step up. American Express Centurion lounges often offer restaurant style dining, craft cocktails, and amenities that are just a little nicer than what you'd find in most Priority Pass lounges. These lounges are only available to American Express Platinum, Business Platinum, or Centurion cardholders.
Airline Lounges
If you don't have a credit card that grants you access to a Priority Pass or American Express Centurion lounge, another great option is to use your airline's own lounge. Airline lounges are often restricted to Business or First Class travelers, but you can also get in by having elite status.
Status gained through that specific airline or another airline within the same alliance will oftentimes be enough to get you in. It varies by airline and location, but these lounges are usually quite nice as they're designed to serve the airline's most loyal and high value customers.
I have Star Alliance Gold status through Scandinavian Airlines, so anytime I'm traveling on SAS or a Star Alliance partner, I'm able to access their lounges and this is another great way that I've been able to save money while traveling over the years.
Eat For FREE (or cheap)
Food can be another big expense while traveling – but it doesn't have to be. Over the years I've made a series of videos where I set out to see what all I can buy with $10 in a given country and it always includes food. So needless to say, I know how to stretch the budget when it comes to dining!
Street Food
Eating street food is a must when traveling. It's one of the best ways to get an authentic travel experience and it often results in trying new types of food that you wouldn't normally have access to. It's also a way cheaper option than going to a restaurant in the crowded touristy area of a city.
Grocery Stores
In addition to eating street food, I also recommend going to local grocery stores for a quick meal on the go. Or if you're staying somewhere with a kitchen, you can cook a proper meal with local ingredients. Fresh baked bread, cured meats and cheese make for a great sandwich and are found cheaply at grocery stores throughout Europe.
Meet Locals
Meeting locals is one of the absolute best parts about traveling. They always have the inside info on a given destination and can help you in a variety of ways. I always recommend reaching out to people on Instagram or better yet, through the Just Go app! It helps knowing locals if something comes up, but it's also resulted in some free home-cooked meals for me over the years. A free meal is never the expectation but I've found most people are very proud of their city or country and want to showcase it through their food and hospitality.
Final Thoughts
One of the biggest myths I hear about traveling is that it's so expensive. While this can be true, it doesn't have to be. There are lots of ways to save money while traveling or in some cases, even do it for free. Through my journey to visit every country in the world I've had to get creative with how I budget and save money – these are some of my favorite tips and I think everyone can benefit from doing the same when traveling.