The single most popular question I get from my followers is:
"How can you afford to travel?"
And I have literally written thousands of emails, tweets and Instagram responses, all giving the exact same answers to this question — so I decided to share all of the ways I make money to afford a life of travel.
No, I am not rich. No, I don't have rich parents. And no, I don't have a huge savings account.
Yes, I make all of my money through travel blogging and vlogging, and teaching English abroad.
So, I've decided to write this detailed blog post which explains all of my tips, tricks and secrets for how I afford to travel as my full-time job.
Because if I can do it, then why can't you do it too?
My ultimate goal is to inspire you to believe that living a life of full-time travel is entirely possible, and to encourage you to make the first move.
1. YOUTUBE
I cannot wrap my head around the fact that I've created a YouTube channel that now boasts over 3 million subscribers, all stemming from this blog. I wouldn't be here without you guys.
The main way I make money on YouTube is through ad revenue.
Every time one of my videos is watched, an advertisement plays, and I'll make a small percentage. We're talking very small. But times that by the amount of people who watch my videos, and things start to ad up (pun intended).
It's actually quite simple. Of course, it depends on the demographic of who's watching, where they're from, how old they are, etc.
I do not dictate which ads are played on which video or for which viewer.
Because Google owns YouTube, YouTube knows your search history. So, if you're really into shampoo, you might get a shampoo ad, and the same goes if you're into filmed travel items like GoPro. It all goes back to the viewer.
A brand will pay me a lump sum to promote their product or service in a video, and we'll agree on some talking points and I'll give a short shout-out.
I only work with brands that I respect and want to promote, and our deal allows me to continue making great videos in every country.
Lastly, there's my Travel Hacking Course, which I spent about three months making and now sell to aspirants. If you haven't already checked it out, you definitely should! I think it will answer all of your travel questions.
2. TEACHING ENGLISH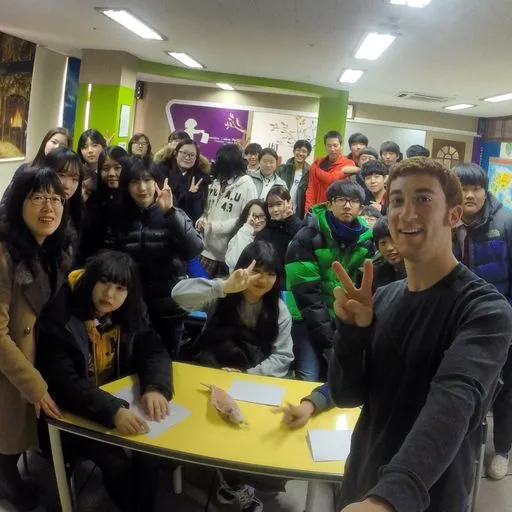 Teaching English is the BEST way to find a job overseas and start traveling full-time as a beginner.
It's the safest way to take that big first leap, and it's risk free once you've locked in your job. Just think about it, you are literally getting paid to teach something so easy that it barely requires you to think.
I had an unforgettable experience living and teaching English in South Korea for 18 months, and I couldn't possibly recommend it more to anyone. I wouldn't be who or where I am today without taking that chance.
However, to be applicable to teach English abroad, you must meet these basic requirements:
– Hold a passport from an English-speaking country
– Have a bachelor's degree from a university
– Obtain your TEFL Certificate (Teach English as a Foreign Language)
You are NOT required to speak the local language, and you are NOT required to have any previous teaching experience.
My starting salary teaching English in Korea was about $2,000 USD per month. While that doesn't sound like a lot of money, trust me, it goes a long way. Consider these amazing benefits: free rent, reimbursed airfare, no taxes to pay on paychecks, no expenses except phone bills, free lunches, health insurance, 4-week paid vacation, etc.
I was given $6K in bonuses after my teaching contract ended. I put it directly towards my travel fund and had some leftover after spending 2 weeks in the Philippines, 7 weeks in India, and 2 months traveling around the USA.
If you have any questions about teaching English abroad, don't even hesitate to contact me! And check out my ULTIMATE GUIDE TO TEACHING ENGLISH IN KOREA!
3. PAID SOCIAL MEDIA SPONSORS
Given my audience of 11 million combined social media followers, companies pay me to shout them out on my networks.
If the company doesn't have many followers, they can leverage my audience to bring new faces to their product or service. It's a similar concept for how Hanes sponsors Michael Jordan in their commercials, or how Nike sponsors LeBron James to wear Nike gear.
Sometimes, I do sponsorships as part of a "package deal." For example, when I work with Client A, I'll write them a review or blog post AND promote them on my social media channels for a set price.
But other times, companies just want a shout-out on Instagram, Facebook, Snapchat, or Twitter, so I charge a hefty fee for them to use my audience.
4. TRAVEL BLOGGING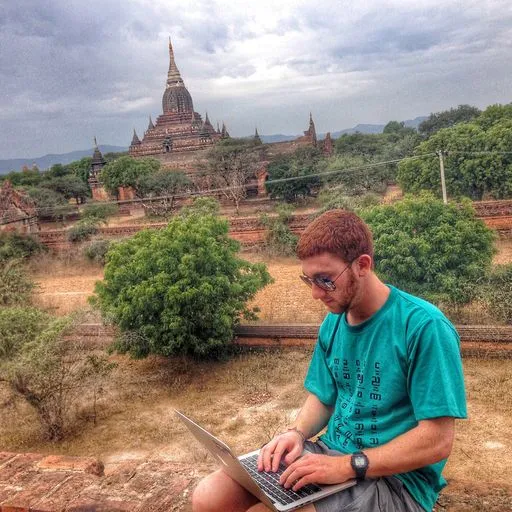 Yes, believe it or not, I make a living from this travel blog.
It does require a lot of patience, hard work and dedication, but I'm telling you right now, that it's entirely possible for you to do it too.
My ultimate secret is to get a job teaching English overseas and start a travel blog on the side. That's exactly what I did, and I had plenty of free time to put into my blog and build it up to what it is today.
The two major ways I make money from this travel blog are through affiliate links and sponsorships.
Affiliate marketing is when a business rewards one or more affiliates for each visitor brought to them by the affiliate's own marketing efforts.
For example, if you were an affiliate for Amazon and linked to some of your favorite books in a blog post, if someone clicked on the link and purchased that book, you would get a small commission.
One of my biggest affiliates is with a TEFL Company I recommend called MyTEFL, so every time someone buys that class, I get paid at no additional cost to the person buying the class.
It's almost as if I am a salesman for that company. If I sell something, I get paid. Make sense?
The other way I make money is through Sponsorships.
These are when a travel-related company pays me to promote them on my blog and on my social media channels. Keep in mind that I always write my own opinions and give advice/recommendations based on my experiences with the product or service.
But I'm only able to work with these high-level companies because I've worked religiously for many years to cultivate a substantial audience across channels. It's hard not to sit around picking my nose all day long.
That's the biggest misconception that us bloggers get. We don't deserve enough credit for all of the hard work that we put in, because it's tough to see it from the outside.
5. FREELANCE WRITING
From time to time, I get paid to write travel or personal finance articles for big publications. These opportunities come and go, but I always jump on them when I get the chance. Sometimes, I pitch myself to find writing gigs, but in most cases, people find me and I accept. The price that I get paid depends on the assignment. In the past, I've received more than $500 for a blog post, and I've also received $30. Whatever floats your boat.
SO HOW MUCH MONEY DO I REALLY MAKE?
Well, it ranges month by month. And the differences can be stark. Timing is everything. It all depends on which clients I have the opportunity to work with. But one thing is certain. As my subscribers and readers continue to increase, the amount of money that I make will increase too, because I can charge higher prices for companies to work with me.
BUT THE TRAVEL BENEFITS ARE JUST AS PRECIOUS
It's not just the money that I make that enables me to travel. It's also the freebies and travel benefits, which allow me to travel longer.
I'm referring to free hotels, transportation, music festivals, museums, etc. I get most of this stuff for free, because I work with the companies to promote them on my blog and on my social media channels. I also work with tourism boards for cities around the world.
But in order to get all of these freebies, I relentlessly pitch myself to all of these companies. It's not like they randomly find me when I get off the plane. I do all of the work months before my trips.
I would say that 90% of the time I get something for free, it's because I pitched myself to the company and they accepted. After all, isn't selling the most important part of any business?
In the past, I've received free tickets to huge EDM music festivals like Sensation Amsterdam and Tomorrowland in Belgium, a free Eurail Pass which lets me travel to any destination via train, and free food tours. Of course, I've helped promote all of these companies in compensation.
It's really a win-win for both parties.
HOW CAN YOU DO IT TOO?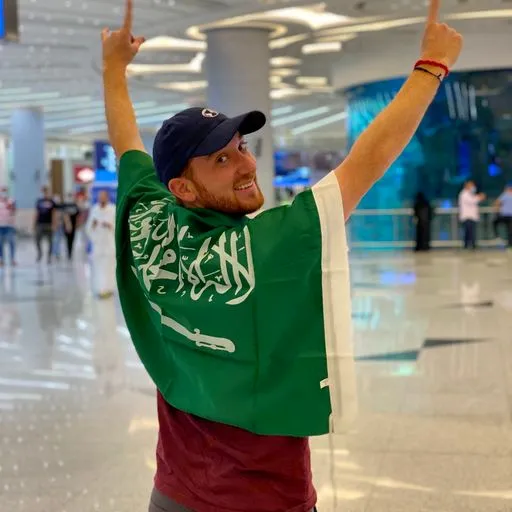 So you want to quit your job and live a life of travel.
The most difficult part is to start.
It's so easy to really want to do something, and find any possible excuse not to make it happen.
My biggest piece of advice for a beginner is to find a job teaching English and start a travel blog from day 1. If you dedicate yourself, then I promise you, within a year or less, you can already start making a decent living from your website and freelance work.
I am living proof that this is possible. It's not a maybe, it's a 100% yes this can happen.
But if you are not qualified to teach English, then don't panic, because there are many other jobs that you can find to make that big first leap abroad.
– Work on a cruise ship
– Work at a hostel
– Work at a restaurant or bar
– Be a tour guide or instructor for your passion (rock climbing, diving, etc.)
– Be a freelancer for things you're good at (check out Upwork, Elance and Fiverr to find work)
– Maybe your current company has a branch overseas?
No matter which job you take abroad, you should still start a blog and get your voice out into the world. Just think of all the doors I've opened on YouTube and beyond from starting this very blog!
Opportunities are out there. It's just up to you to make it happen. I promise there is a way.
I hope you understand now how I make money to afford my travels. And I truly hope that this post inspired you that YOU CAN live a lifestyle like I do. Because it's really not that difficult. You just have to be smart about the decisions you make.
And there onwards, the rest is history.